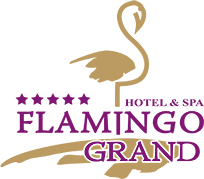 Treat yourself to unforgettable Christmas emotions in Albena
Back to Recommendations
Deluxe & Lifestyle
Eco-Friendly
x
best price guarantee
no hidden fees
free cancellation*
POSSIBILITY OF TRANSFER
Book
Treat yourself to unforgettable Christmas emotions in Albenа
The 5-star Flamingo Grand Hotel & Spa surprises with special rates
Albena holiday village offers Christmas surprises to its guests. The 5-star Flamingo Grand Hotel & Spa will host winter festivities at special rates.

Once again this year the 5-star jewel located in the heart of the seaside resort will delight guests with its warm comfort, delicious food and cozy atmosphere. Special rates start from 79 leva per person per night + breakfast and dinner, and those who book by the end of November can benefit from a 10% discount.
The offer comes with a traditional Christmas Eve dinner, included in the price are also sauna, steam room, caldarium and indoor mineral water pools, as well as a rich animation program with holiday activities for children. The convenient Deluxe Studios, combined with the food produced in Albena's own bio gardens, give a sense of home comfort and warmth. And the friendly attitude of the Flamingo Grand Hotel & Spa team adds to the festive spirit.
Although temperatures during the winter months are not high, the beauty, tranquility and fresh air by the sea are a treat to remember. The 3.5 kilometer long beach is the perfect place for year-round walking. At the end of December there are also possibilities for indoor tennis, bicycle rental, horseback riding on the beach or in the arena, attending a swimming school with professional trainers and visiting the Black Sea Ice Arena skating rink in the village of Kranevo with free transportation to and from the hotel. The good news for guests arriving by cat is that in winter they will not pay for the entry and parking of their vehicles in Albena.
Similar articles
There are currently no active articles!