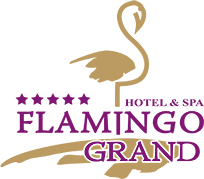 Spa Brunch in Albena
Deluxe & Lifestyle
Eco-Friendly
x
best price guarantee
no hidden fees
free cancellation*
POSSIBILITY OF TRANSFER
Book
Spa Brunch in Albena
Flamingo Grand Hotel & Spa 5 *
From October 19 to December 22, you can enjoy a wonderful day with a spa treatments and selected dishes at the Flamingo Grand Hotel & Spa 5* in Albena. The price of 33 BGN per person includes an array of leisure options and perfect recreation for all senses.
| | | |
| --- | --- | --- |
| Adults (over 14 years) | Children (6-14 years) | Children up to 6 years |
| 33 BGN | 16 BGN | Free of charge |
Offer is valid on Saturdays and Sundays in the period 19.10 - 22.12 incl.
Use of Spa pool with mineral water, sauna, caldarium, steam bath, ice shower, relaxation area and gym at Elements SPA - from 8:30 a.m. to 8:00 p.m.
Use of indoor swimming pool with mineral water (25/12 m) - from 8:30 a.m. to 7:30 p.m.
Special price for one massage of your choice - hot stone massage (25 min.) or partial classical massage (20 min.) for 18 BGN.
20% discount on all other Spa treatments at Elements Spa.
5-star brunch (11 a.m. - 4 p.m.)
Opportunity to book during the day an Executive Studio with breathtaking sea view for BGN 60 per studio (12:00 a.m. to 4:00 p.m.) or BGN 80 per studio (12:00 a.m. to 6:00 p.m.)
--
Free entrance and parking in Albena.
--
Spa brunch can be offered as a gift voucher as well
--
Brunch menu
Salads
Green leaves and tuna salad
Quinoa vitamin salad with feta cheese
Salad with baked halumi cheese
Buckwheat and pomegranate salad
Soups
Cold gazpacho soup
Cream of tomato soup with mozzarella and pesto Genovese
Clear chicken soup
Main dishes
Steamed white fish fillet with autumn vegetables and fresh herbs
Grilled chicken breast with lecso vegetables and a herbal bouquet
Beef stew with mashed potatoes and carrots, horseradish sauce and crispy onion rings
Pasta with cherry tomatoes, baby spinach, spring onions and Parmesan flakes
Desserts
Variety of seasonal fruit fillets
Ice cream (different flavours)
Multicolored French macarons
Cake of the day
Drinks
Mineral water
100% natural apple juice from the gardens of Albena
Similar articles
There are currently no active articles!