Albena beach
Enjoy one of the most beautiful beaches in Europe
Weather
in Albena.bg
Weather
18°
x
best price guarantee
no hidden fees
free cancellation*
POSSIBILITY OF TRANSFER
Book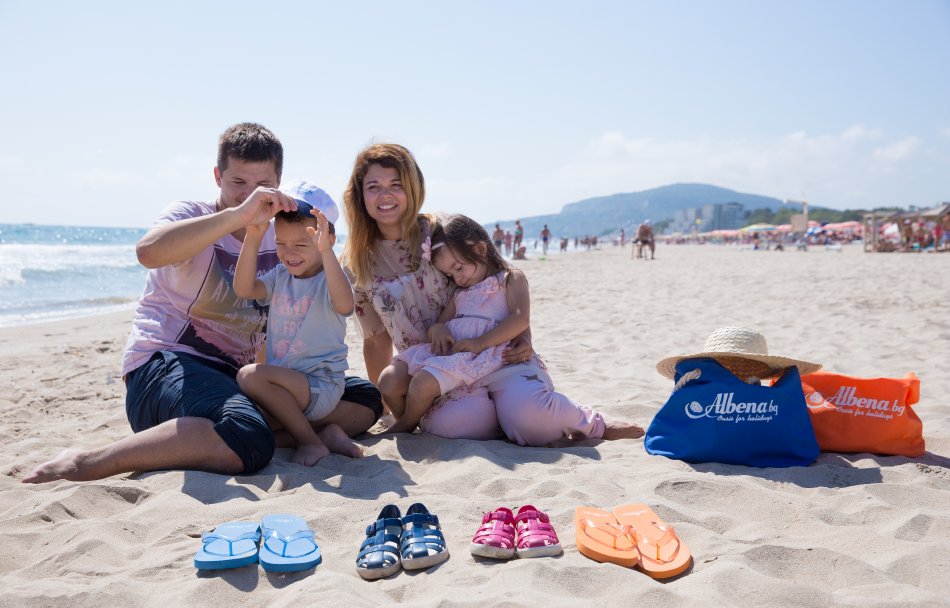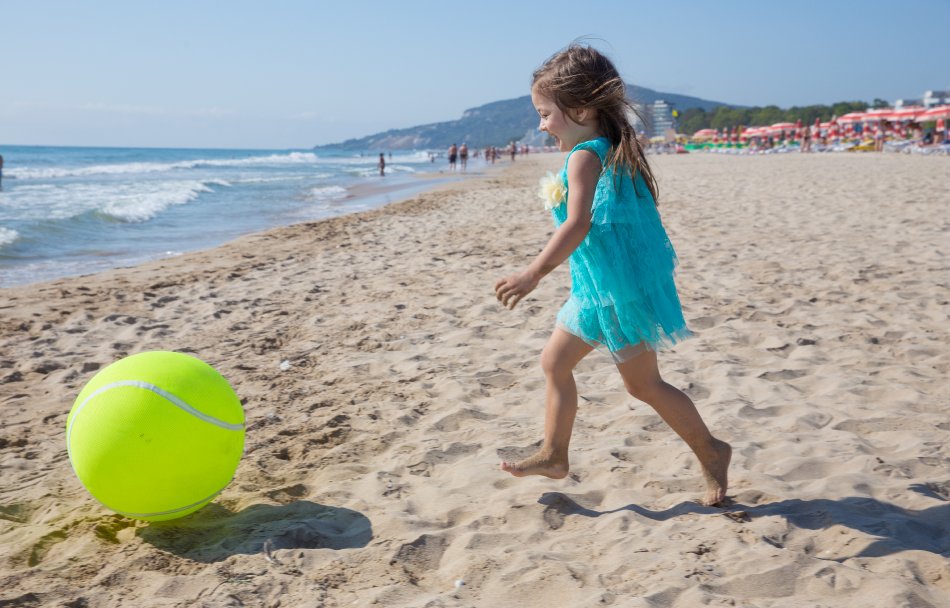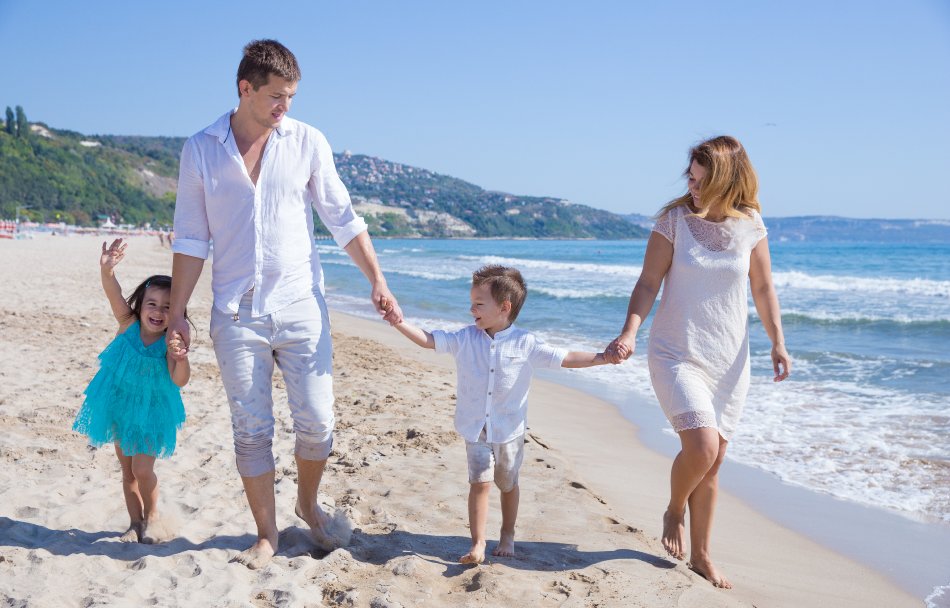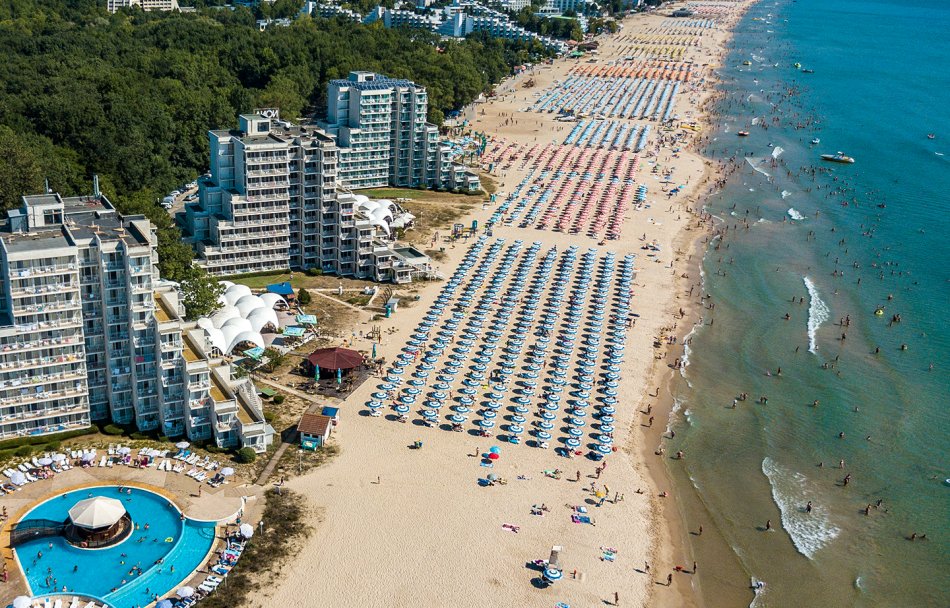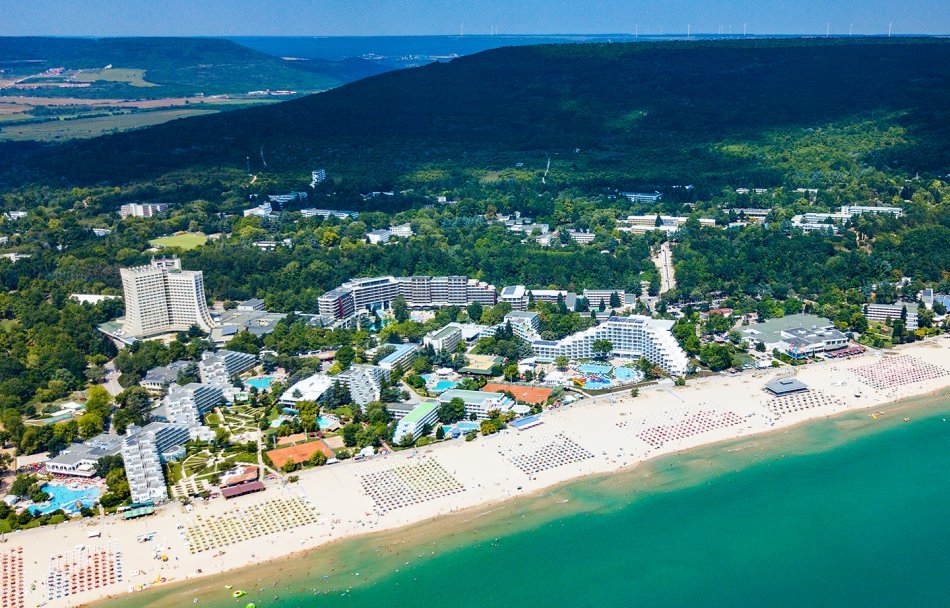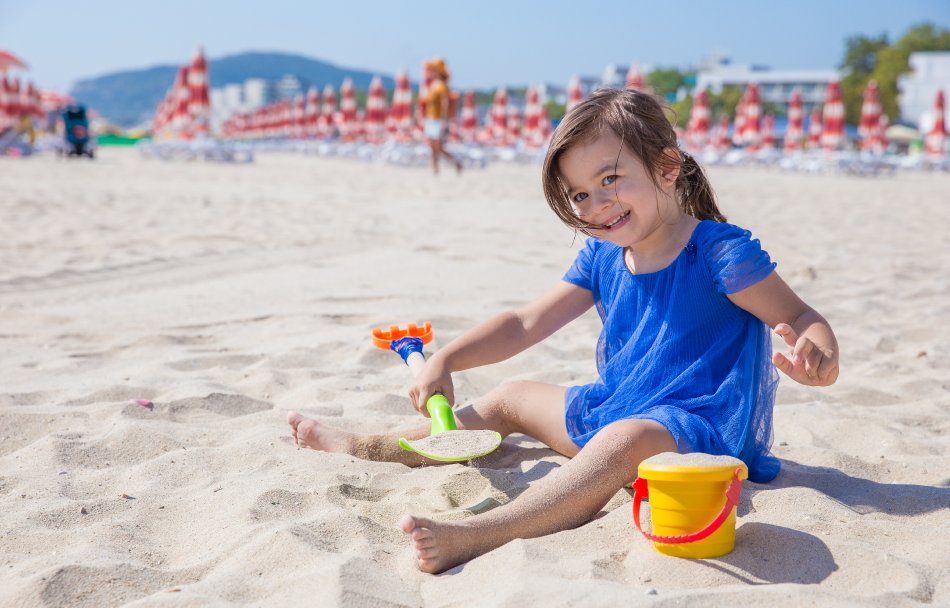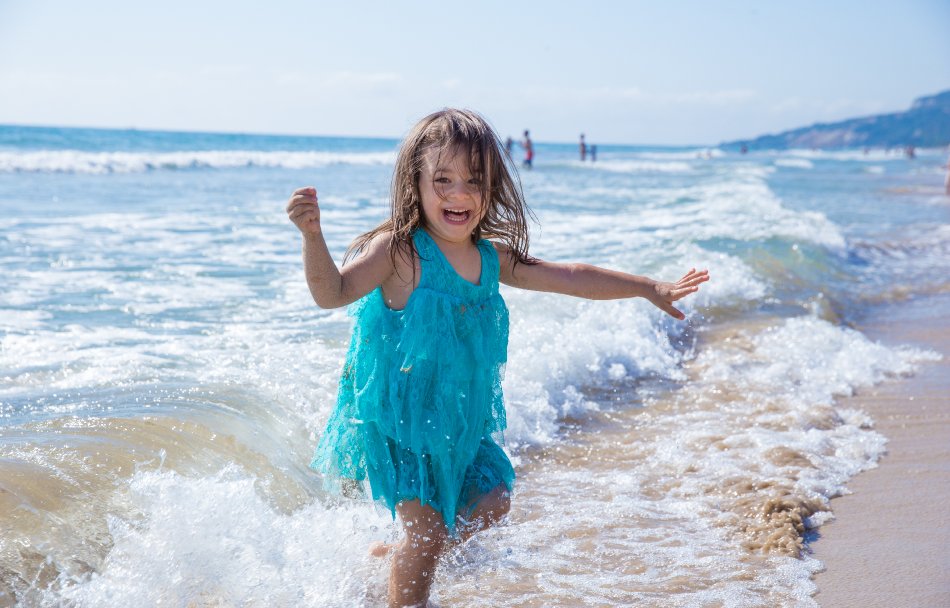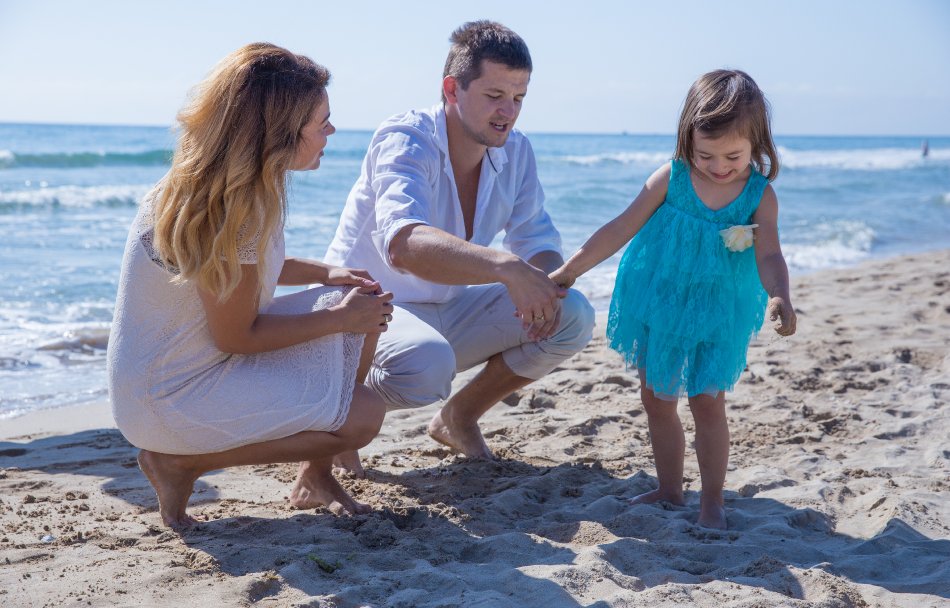 Best beach resort in Bulgaria
Gentle warm water and silky sand
The beach is one of the most beautiful things in Albena. An example of pride is the clean coast with the finest silky sand. One of the best beaches in Europe is more than 6 km long and 150 m wide. The gentle incline of the shore, the shallow caressing waters and the variety of water sports, attractions and playgrounds make Albena a favourite spot for all ages. This Bulgarian beach offers excellent conditions for a relaxing family vacation.
Don't need to worry about anything because a perfect beach vacation awaits you in Bulgaria. There are plenty of possibilities in front of you. One of them is to enjoy the sun while your kids are playing on the shore. Another is to take part in some enjoyable game like volleyball. Many of the tourists prefer to dive into an interesting book or they prefer listening to favourite music.
Everything is fun on the beach in Albena. You can help kids in making a sandcastle. They will be thrilled. If you spend your summer holiday with a group of friends, you will have the chance to catch up talking to them.
Albena has been awarded the Blue Flag eco-label for the purity of the sea, the beach and the whole territory. The air is crystal clean and rejuvenating due to the high oxygen content that comes from the resort's proximity to the Baltata natural reserve.
Fine sand and crystal clean water
The beach of Albena is known for its fine sand and is loved by parents and adored by children. The sea level gradually descends with a gentle slope and the water is clean, calm and warm, reaching a depth of no more than 1.6 meters at a distance of 100-150 meters from the shore. The cool air, mild climate and refreshing sea breeze are a real treat for those who try to avoid extreme heat - the average summer temperature in Albena is about 25°C.
This makes the beach one of the most appropriate for vacations with little children. They will be astonished to play in the water especially if it is for the first time. Moreover, the beach in Albena isn't the only chance for enjoying the water. You can continue chilling around the pool when you go back to the hotel.
Positively, tourists find a countless number of options to spend their free time. They will be able to see picturesque landscapes, pristine beaches and breathtaking nature. In the area can be found interesting vegetation and animal species.
Except for all this beauty, people will have the opportunity to experience luxurious hotels and restaurants. Besides, prices are reasonable. Streets are full of shops where you can find everything necessary for your summer break. For instance, there are cool swimming suits, sunglasses, umbrellas, sunscreen etc.
Native people offer whatever visitors need to have a great time at the beach in Albena, Bulgaria.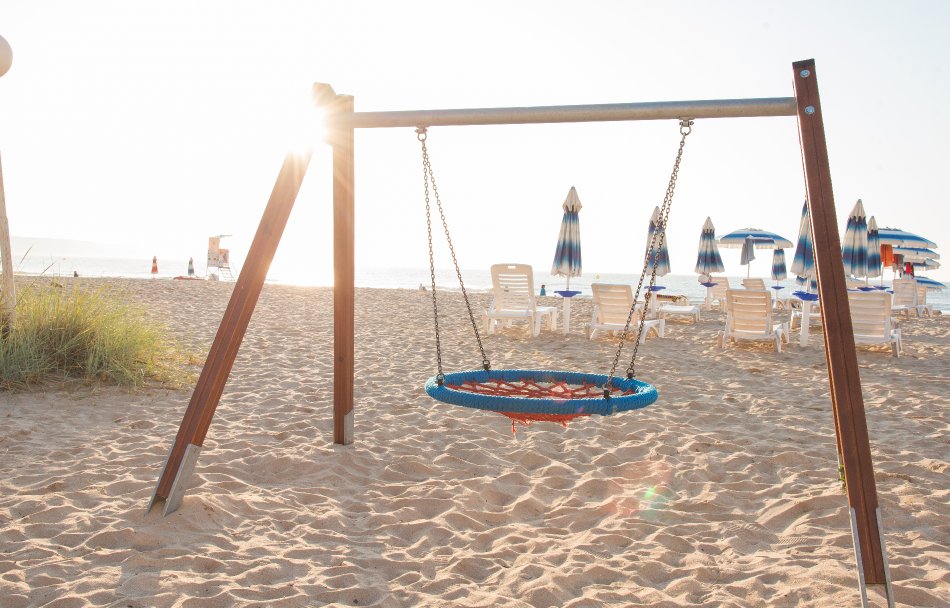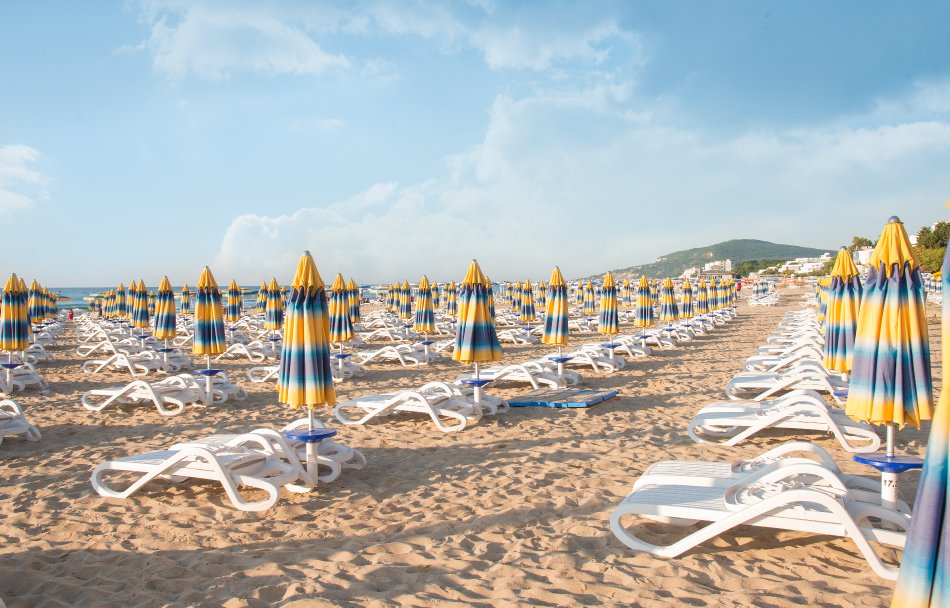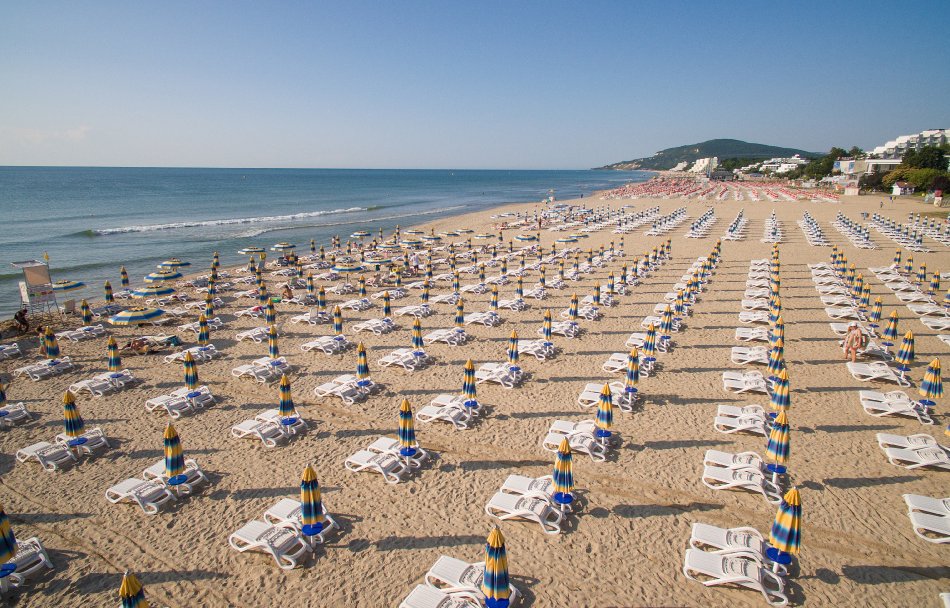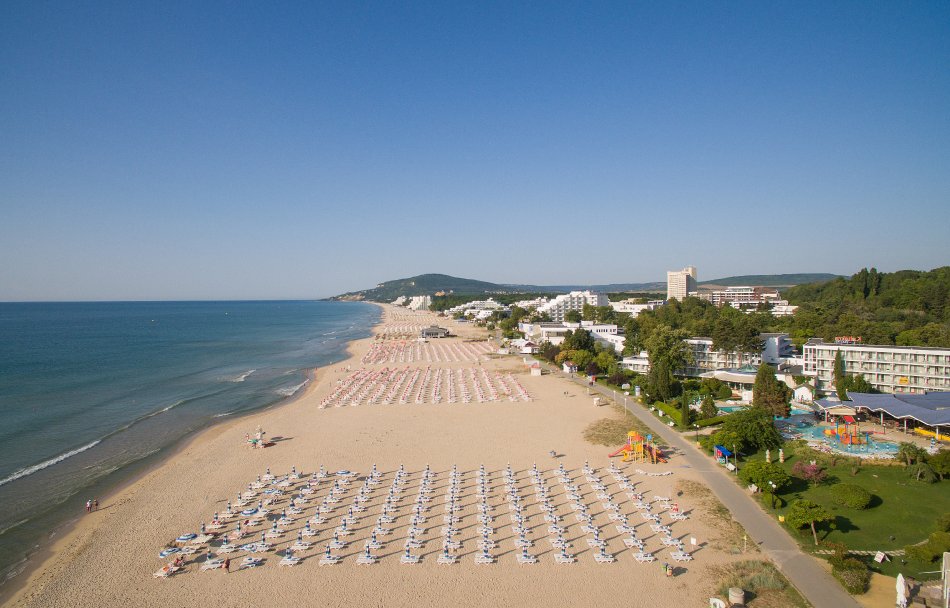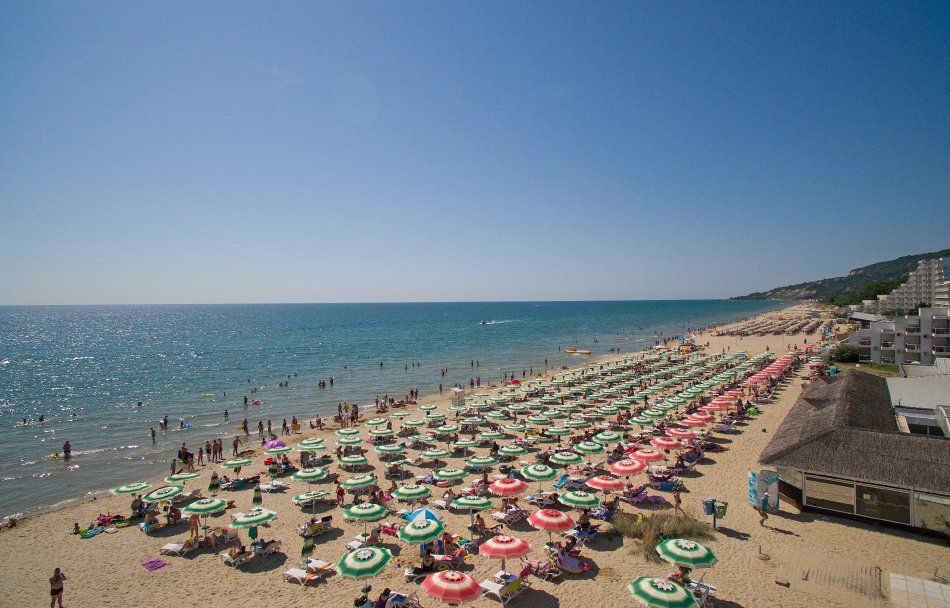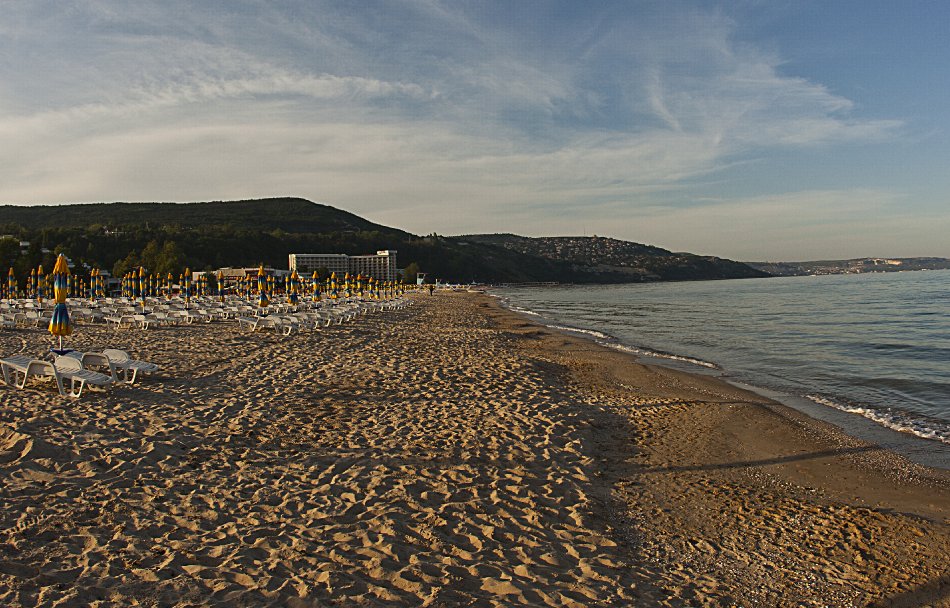 The ultimate dream vacation
Wi-Fi
When you want to send vacation selfies to your loved ones, it's important that you're connected. That's why free Wi-Fi is available to all guests wherever they are in the resort - on the beach, by the pool, at your hotel or conference hall.
Beach Library
The first holiday library in Europe with free beach access is at your disposal. You can choose from over 6000 titles in 15 languages across all genres - thrillers, crime novels, romance and historical reads, memoirs, etc.
Make your time on the beach entertaining with a book in hand!

Sun loungers and umbrellas
All Albena hotels offer complimentary 2 sun loungers and an umbrella on the beach for each room.
Free zones
The free zones are between the private zones and they occupy over 50% of the beach.
Mini Safes & Special Bins
In Albena you will find mini safes that can be rented directly on the beach, ideal for storing your mobile phone and valuables while swimming or practising your favourite sport. At your disposal are also bins for separate waste collection, because we take care of the cleanliness of the resort and are committed to protecting nature and the health of our guests.
Lifeguard
Every area of the beach is monitored by lifeguards daily until 18.00 h. At each lifeguard viewing point is posted a description of the different flags: red flag - rough sea, entering is not allowed, yellow flag - restricted bathing, and green flag - swimming is allowed in the designated area.
Beach hotels
Book one of the All Inclusive hotels with direct access to the beach in Albena!
Pick a hotel located close to the sea and you'll be on the beach in just a few minutes. You can also rely on many alternative means of transportation within the resort - escalator, hop-on train, mini shuttles, bicycle and numerous walking alleys.
Sports and activities
Albena - European resort of sport 2020
Albena offers numerous opportunities for an active vacation. You have a pick of 42 sports that can be practiced by amateurs and professional athletes alike.
There are 4 water attractions' clubs located on the beach offering paddle boats, water jets, surfing, water skiing, kayaking, paragliding, snorkeling, banana riding, etc.