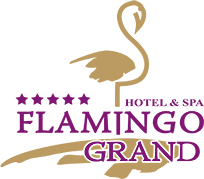 Accommodation
Book your room at the best rates - immediate confirmation
Deluxe & Lifestyle
Eco-Friendly
Weather
in Flamingo Grand Hotel & SPA
Weather
20°
x
best price guarantee
no hidden fees
free cancellation*
POSSIBILITY OF TRANSFER
Book
Luxury penthouses
With their remarkable design combining perfectly glass and wooden elements, the newest and exclusive penthouses in Flamingo Grand Hotel&Spa 5* will allow you to indulge in luxury and comfort.
Unrivaled elegance, relaxing atmosphere and incredible views will make you feel not only relaxed, but also rejuvenated.
Each of the 3 penthouses has a separate bedroom with a bathtub, a modern bathroom with a double sink and a shower, a spacious seating area with a fully equipped kitchen and a dining table, as well as a private outdoor terrace. Two of the three penthouses offer an outdoor Jacuzzi with stunning sea views.
Ideal for long stays, family breaks or romantic seclusion, each of the penthouses will surely impress and make your five-star vacation unforgettable.
Ultra-modern luxury apartments
Guests have at their disposal 260 very spacious suites and studios on BB or HB basis. Our rooms elegantly combine modern design with state-of-the-art facilities and the large selection of additional services will add up to the perfect summer vacation.