About the hotel
Find out more about the exclusive services of Maritim Hotel Paradise Blue Albena 5*
Deluxe & Lifestyle
Eco-Friendly
Weather
in Maritim Hotel Paradise Blue
Weather
2°
x
best price guarantee
no hidden fees
free cancellation*
POSSIBILITY OF TRANSFER
Book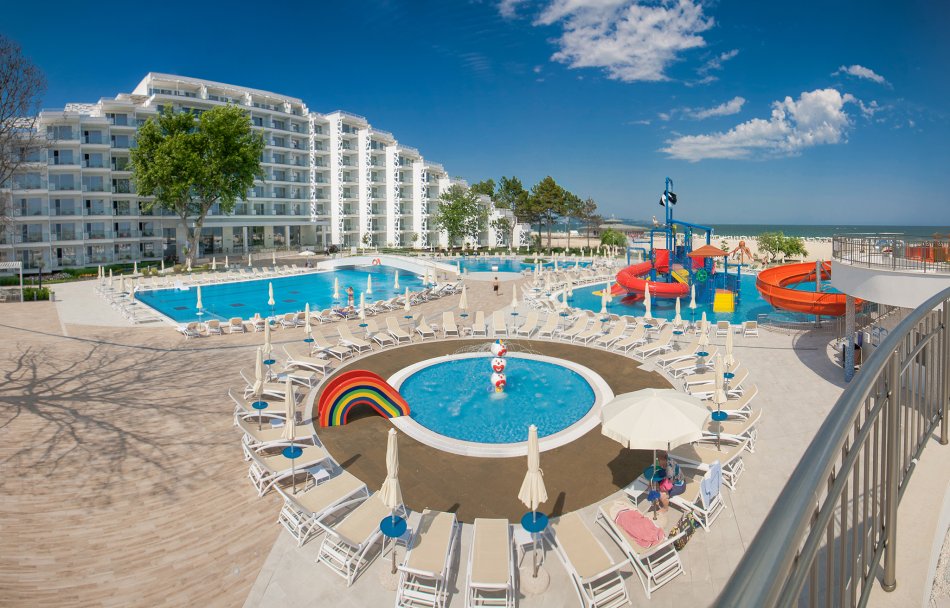 The perfect hotel
For your luxury vacation
Maritim Hotel Paradise Blue Albena 5* is located on the beachfront. In 2019 it became a part of the prestigious Maritim hotel group and is the only Eastern European hotel of the German brand. Albena's water amusement park Aquamania is just 950 m from the hotel and Baltata nature reserve can be reached by car in 5 minutes.
The exclusive decor and minimalist design, the crystal clean air, the endless sand strip, the delicious food prepared with organic ingredients and the smiling staff make Maritim Hotel Paradise Blue Albena 5* the perfect place for your luxury vacation throughout the year.
The rooms are stylish and some of them have direct access to a private pool. Cocktails served outdoors, romantic dinner with a breathtaking view, relaxing massage in the SPA centre or refreshing shopping trip on Albena's promenade are just a few of the options for a memorable experience!
The hotel has a fully equipped multifunctional hall with up to 500 seats, suitable for business events, evening parties, cocktail receptions and weddings.
A real oasis and a joy for all senses! Every corner is designed with consideration, so that your memories will be perfect.
Maritim Hotel Paradise Blue Albena 5* embodies comfort, relaxation and the irresistible desire to return again.
The ultimate dream vacation
Animation 7/7

Paid Parking

Private parking

Event Facilities

Telephone

Exchange

Card payment

24/7 Reception

Up to 4 kg / 100 lv / day

Jewelry store

SPA & Wellness

Housekeeping 24/7

Hairstyle saloon

Business centre

Taxi & Rent a car

Luxury store

Room service
VIP Lounge
An exquisitely elegant room on the 8th floor of the hotel where you can enjoy fine dining overlooking the sea. A breathtaking panorama view, lounge music, minimalist design in natural colours and French windows - this is the perfect place for an inspiring and romantic evening.
VIP Lounge offers exclusive access to executive guests of the hotel.

Lobby Bar
A place for meetings where you can relax on the comfortable sofas and enjoy the refreshing drinks and light snacks. The natural light and the blue decor create an atmosphere of perfect relaxation and joie de vivre.
Night Club
Sparkling colors, variety of music, wild dancing and fun until sunrise for your unforgettable vacation.

Fitness center
State-of-the-art equipment that will keep you fit throughout your stay. Located on the 4th floor of the hotel.
Outdoor pools and bar
Guests of every room have at their disposal complimentary 2 sunbeds and 1 umbrella, a 25 m swimming pool, single and double massage beds, water mattresses, hydromassage zones and waterfalls. Rooms on the ground floor have direct access to the pool and garden. And on the terrace you'll find a bar that will make your stay at the hotel even more enjoyable.
Indoor swimming pool
An elegant indoor pool with hydrotherapy, light effects and ambient music welcomes you to relax in an exclusive atmosphere on the 4th floor of the hotel.
Private beach
For every room there are complimentary 1 umbrella and 2 sun beds, as well as a library with 6000 titles in 15 languages for all book lovers who enjoy reading on the beach.

Sports fields
Albena is "European Resort Of Sport" for 2019 with over 100 sports events and activities, including five European championships.
Activities for children
Water attractions, merry slides in different forms and colours, the best entertainers, mini disco club, shallow pools (up to 40 cm) for the smallest guests, a variety of games and toys in the indoor kid's room. Everything necessary to make your children smile with sparkling eyes.
Contact and location
Discover where the hotel is located and how you can contact us